Lisa Hansen, a senior designer at Portico, was fortunate enough to recently holiday in Spain for several weeks.
One of the things she most appreciated was the outstanding hotel design. Below she shares a few of her experiences.
 During my stay in both Barcelona and Ibiza, I was amazed at the degree of dedication to experiential design evident in commercial spaces.  Although these spaces included restaurants, bakeries, coffee shops and retail, what grabbed my attention the most was hotels.
What I found particularly notable was the contrast in styles.   Spaces were either extremely modern; or  would honor the past with their traditional styling.
I have selected two modern hotels to share with you. Both are applauded for their contrast in style.
Barcelo Raval opened in Barcelona in 2008.   This unusual elliptical structure was shrouded with a stainless steel skin, to offer more privacy to the guests and accent the exterior of the building.
I chose this four star hotel  for my stay because of its great location in the heart of Barcelona. It's within walking distance to the Gothic Quarter, Los Ramblas and many of the museums, all of which I wanted to visit.
As I recognized so many of the images of this hotel  from my library of design books, it was a "must" that I stay there. 
This hotel did not disappoint me.   The staff went above and beyond,  with their superb service.
The interior design was vibrant, edgy and quirky.   Sleek pink lighting flowed over the tiled porcelain lobby floor.   In contrast, a traditional Bisazza mosaic tiled wall was complemented with futuristic  black and white furniture, all bringing a special ambience to the room.
In my opinion, the most notable detail in the lobby was the Basotect® ceiling (2200 ceiling baffles).   As an  open air bar & restaurant was located only a few feet away  from the front desk, these baffles offered both an extremely attractive aesthetic to the space as well as cover off the acoustical requirements.
The rooftop bar, appropriately named 360, provided phenomenal views. Guest could peruse the country side through   telescopes or take a dip in the pool.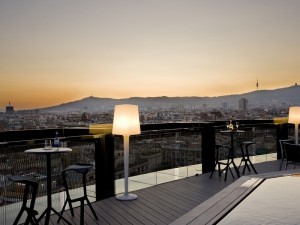 The suite entry was defined by lit room numbers, set into the printed carpet.  Pink or green LED wall lighting accented the doors.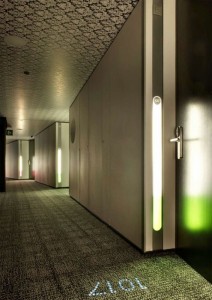 The guest rooms had an open concept feel with floor to ceiling windows and 32" TV's. Additional details like an IPOD docking station and personal nespresso machine, which are not common in European hotel rooms, were much appreciated.   After my stay, I understood why this establishment had won so many travelers choice awards.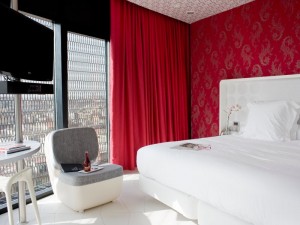 The next stop on my vacation was Ibiza. Located just minutes away from Old Town Ibiza, the Ibiza Gran Hotel offered stunning views of the Mediterranean.   On entering,   I experienced a sense of tranquility and relaxation.
The interiors could only be described as a contemporary luxury.  Considered to be an art hotel, 29 artists have helped shape the ambience of this unique hotel using earth, air, life, water and sky as their inspirations.
On entering the lobby, you were greeted with the "Birth Place", a white lacquered ribbon of aluminum floating carelessly across the space.  Inscribed on the ribbon was a poem written in 1913 by Maria Villangomez, paying homage to the island of Ibiza.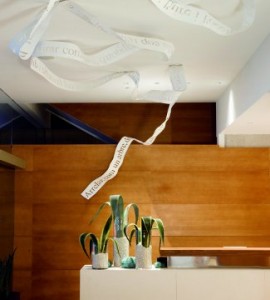 Just beyond reception, massing the atrium, was "Pas", an enormous egg shaped sculptural piece. "Pas", primarily constructed of smooth concrete and resin, was accented with expanded polystyrene and graffiti.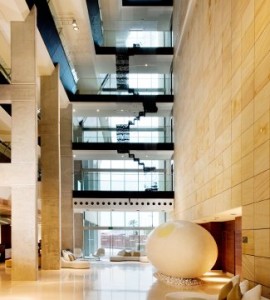 In contrast to this massive sculpture, the "existence stairs" floated 11 meters above in the open air space.  These stairs, created out of small pieces of coal suspended on transparent nylon threads, truly were a feat of wonder.
My favorite display, the coolest spot of the hotel, was the bar lounge.    Offering live music, guests could partake in enjoying an aperitif, while taking a stroll down memory lane with Tony Keeler's photographs.  The exhibition offers you a peek into the island during the 1960's, when Keeler was drawn to the romantic spirit of the hippy generation, who en masse, came to the island. To see Tony Keeler's work, view click here