Why not spend some time Canada Day long weekend, exploring the many local art galleries we have in this great city showcasing some amazing Canadian talent and content. Whether you are looking for something playful and cheeky, or contemplative and informative, there is definitely something in store for you.
Hot Art Wet City Gallery and Shop– 2206 Main St., Vancouver
Great White North – A group art show tribute to 80's Canadiana
Wednesday, June 19th – Saturday, July 13th
Bob and Doug McKenzie, SCTV, Bryan Adams, Degrassi, hockey without helmets, The Hanson Brothers, CBC, Mr. Dressup, David Suzuki, Corey Hart, The Beachcombers, Expo 86…do any of these ring a nostalgic bell to you? Then check out Hot Art Wet City for their 80's Canadian pop-culture inspired show "Great White North". Artists include Andrea Hooge, ARGH!!, Chris Bentzen, Brent Clowater, David Stein, DEDOS, Edaward Juan, Norma Jean Harvey, Exploding Haggis, Sharon Piekarski, Shary Contrary, Sheri Alexander and Alice Vogelaar. It'll be a dooser, eh!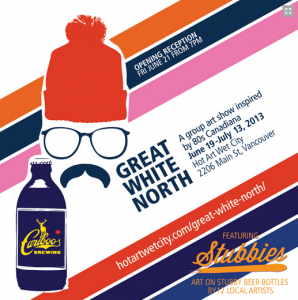 Monte Clark Gallery– #105-525 Great Northern Way, Vancouver
Tim Gardner
Thursday, June 13th – Saturday, July 13th
Gardner was born in Iowa city, but grew up in Canada and has called British Columbia home for most of his life. World renowned for his hyper-realistic portraits and landscapes done in watercolor or pastel, his latest showcase at Monte Clark combines these two major themes into one and the connection between the two. He presents to us landscapes with small figures surrounded by vast nature, and conversely, portraits as snapshots of the life of his subject and uses the landscape as more of a backdrop to provide us more information about the subject's identity. While drawing from classical trends, Gardner gives as a more contemporary narrative with his 'middle class' subject matter and Canadian landscapes.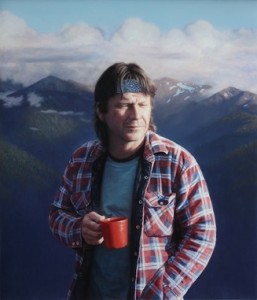 Tim Gardner, Roy with Red Cup, 2012, pastel on paper
The Contemporary Art Gallery – 555 Nelson Street, Vancouver
Itee Pootoogook – Buildings and Land
Friday, June 28th – Sunday, August 25th
This is the first solo exhibit in a public institution by Canadian artist Itee Pootoogook, hailing from Cape Droset, Nunavut. Pootoogook belongs to a group of young Inuit artists who are taking the traditions and skills taught to them by their parents and grandparents and reshaping them for a new contemporary audience. In his large graphite works, he shows us a glimpse into the everyday life of those living in the North. Not the traditional themes of igloos and fur-clad hunters, but of recognizable contemporary elements like TV, snowmobiles and soft drinks. Focusing on northern architecture and landscapes, Pootoogook has broken out of expectations and, instead of providing us with 'Native Art', has given us Contemporary art that is a reflection of his own life.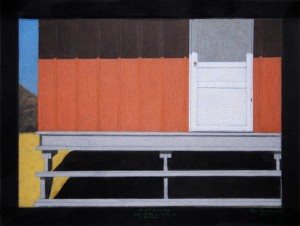 Itee Pootoogook, Bright Sunny Day, 2011, coloured pencil on paper
Gam Gallery –  110 East Hastings Street, Vancouver
Wastelands: Natasha Broad, Alex M.F. Quicho and Daniel Marcus Tatterton
Friday, June 7th – Friday, July 5th
This group show both playfully and seriously studies the dichotomy that is our own backyard: a cosmopolitan city perched just inches from a great wilderness. They look at the danger, fear and fascination that lie behind our contemporary relationship to nature and how disjunctive a place it is where the wild things and recreational Vancouverites attempt to co-exist. A mixed media show showcasing the works or 3 different artists all hailing from Vancouver.