If you stick your head in the sand and say that the real estate market is bad, it will be bad.  It's the nature of a self-fulfilling prophecy.
We've been fortunate enough to be involved in several multi-family projects in both Vancouver and Calgary that have had great success in the first quarter of 2013.
Our hats are off to these developers, for being aggressive in a not so ideal market.
Roxton – Mosaic Homes, Port Coquitlam, BC
Pre-sales greatly enhance the bottom line.
Mosaic Homes is in the process of building out this 42 unit townhome and single family home project in Port Coquitlam.   Since opening on January 19, 2013, they've sold 50% of the product, which is still in early construction.
Mosaic's mandate for the design of this project was to utilize classic, timeless finishes that transcend a number of design styles.
 Click here to see the Article on Living Room's to Love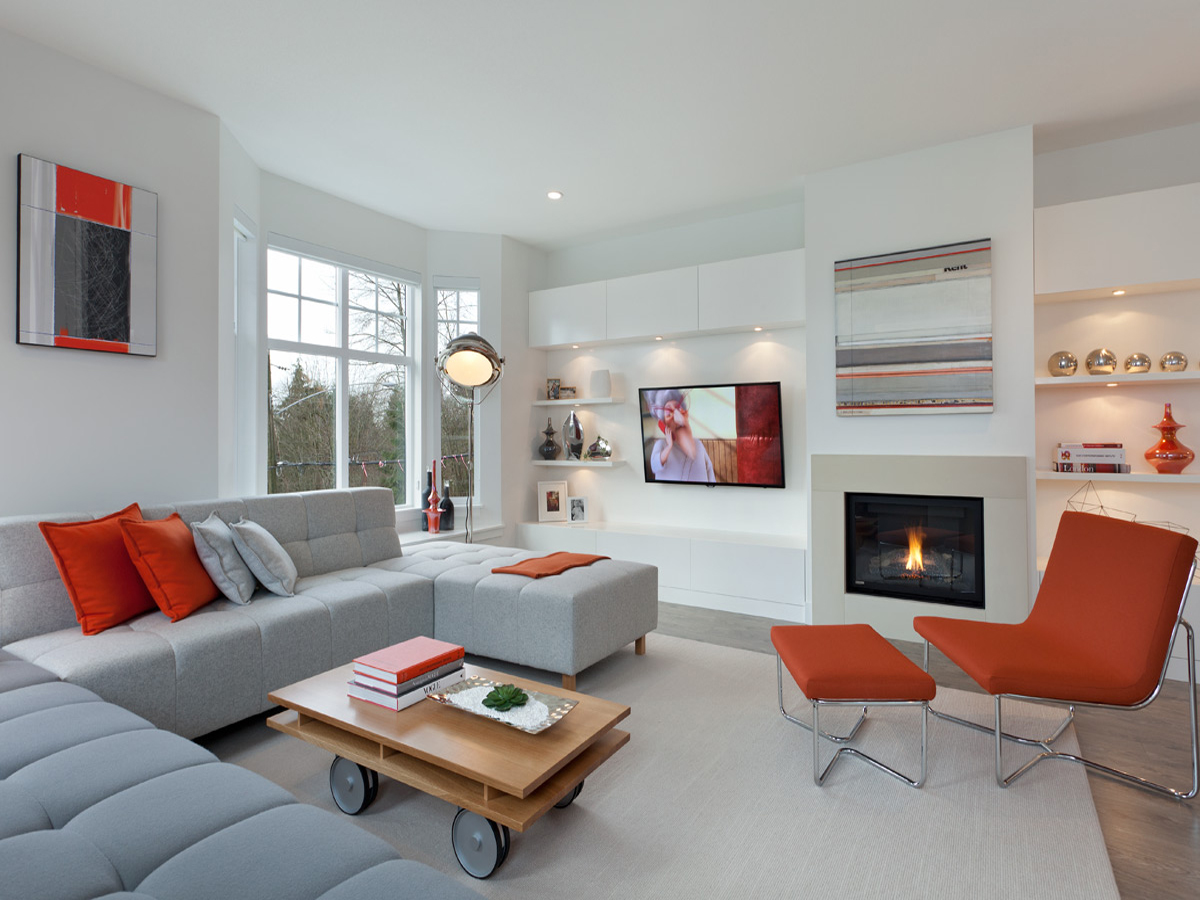 Photo-Roxton Living Room
Sail – Adera Development Corp – Vancouver, BC.
This popular west coast modern building is the second phase of Adera's latest project in the UBC market.   Adera has achieved near 90 (yes 90) sales since they launched in January.
Designed by Rositch Hemphill Architects, the exteriors of Sail integrate the use of handsome natural materials that complement the surrounding woodland environment.   The homes at Sail also have abundant natural light, due to the liberal amount of glazing on the building.
Predominantly one and two bedroom condos, the interiors include quartz countertops, wood veneer cabinetry, GE Profile appliances and Kohler plumbing.   The penthouse units have rooftop patios for outdoor entertaining.
The urban location of this project and the cultural diversity of the area have contributed significantly to Sail's success.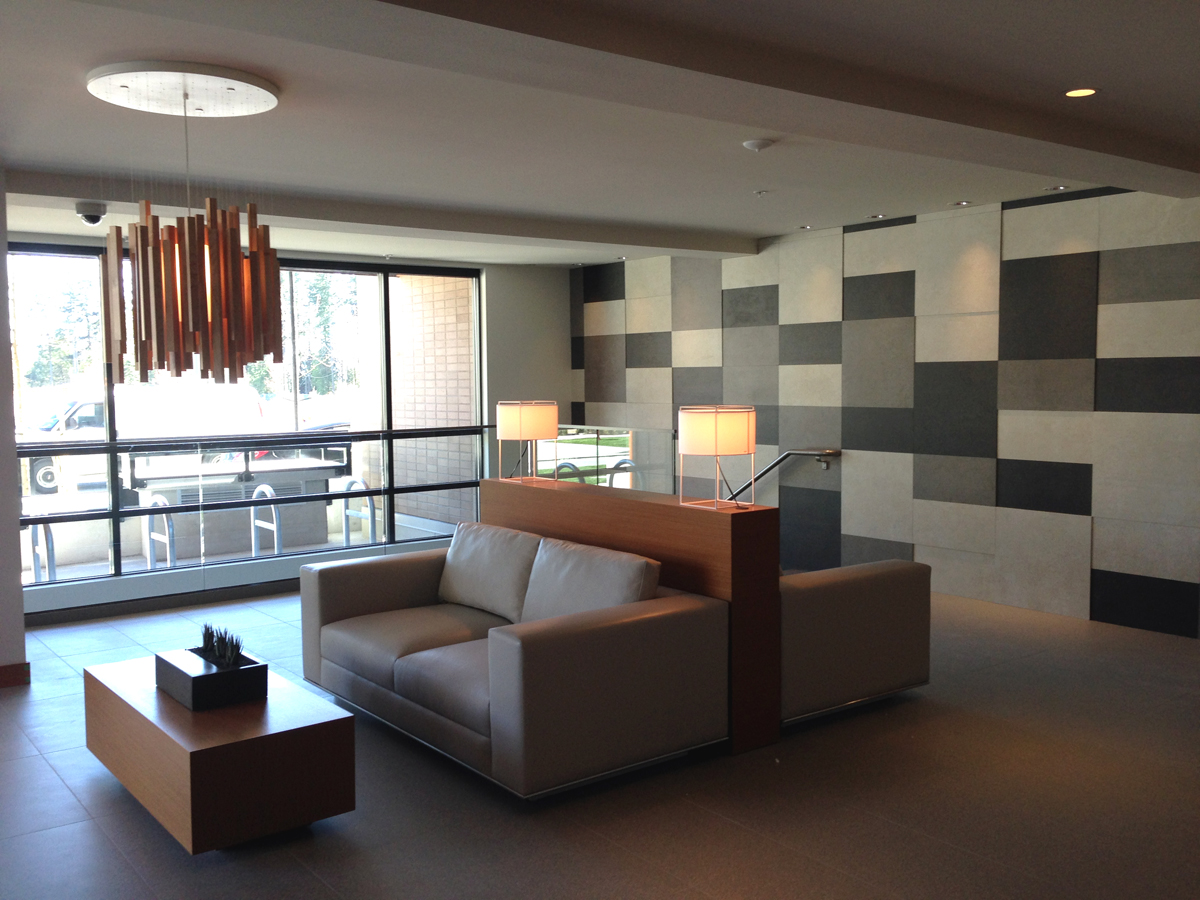 Photo-Sail Lobby
VEN – Bucci Developments Ltd – Calgary, Alberta
Bucci has definitely made its' mark in the Alberta market.   Since 1998 they have sold over 1000 homes in Calgary and have sold out two buildings in the past 2 years.  They just released their most recent project – VEN condominiums in Kensington.
Located in the popular Kensington area, VEN's proximity to downtown, local shopping and restaurants, the C-train, SAIT and The University of Calgary make it an ideal location.   This project, constructed to Built Green Silver Standards, has captured the attention of many Calgary residents who've longed for an opportunity to call Kensington home.
Bucci opened with a bang on March 9, 2013 selling more than 50% of the 115 available suites.   To view a video of opening weekend, click here.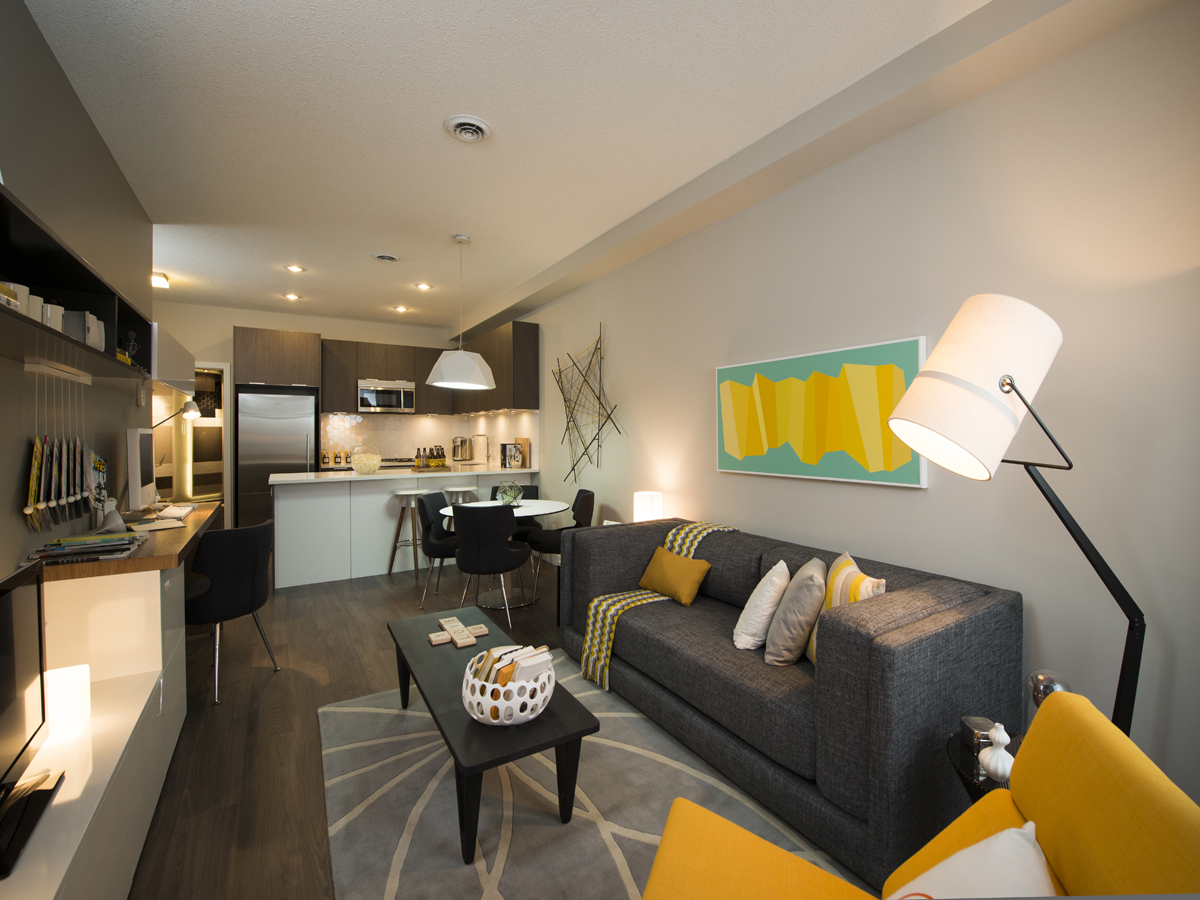 Photo-Ven Living Room and Kitchen
3 Eau Claire – 3 Eau Claire Developments – Calgary, Alberta
Twin Towers designed by Norr Architects will soon be gracing the skies of downtown Calgary.
This mixed use commercial and residential building went to market in late November, which is not a terribly good time to launch a project.   To date, they have presold 75% of the entire first tower.
Finishes in this building are sleek and reflect current European design.
3 Eau Claire Developments has recently partnered with Shaw Communications to lease 12 floors of this 48 storey tower.
Click here to see the original article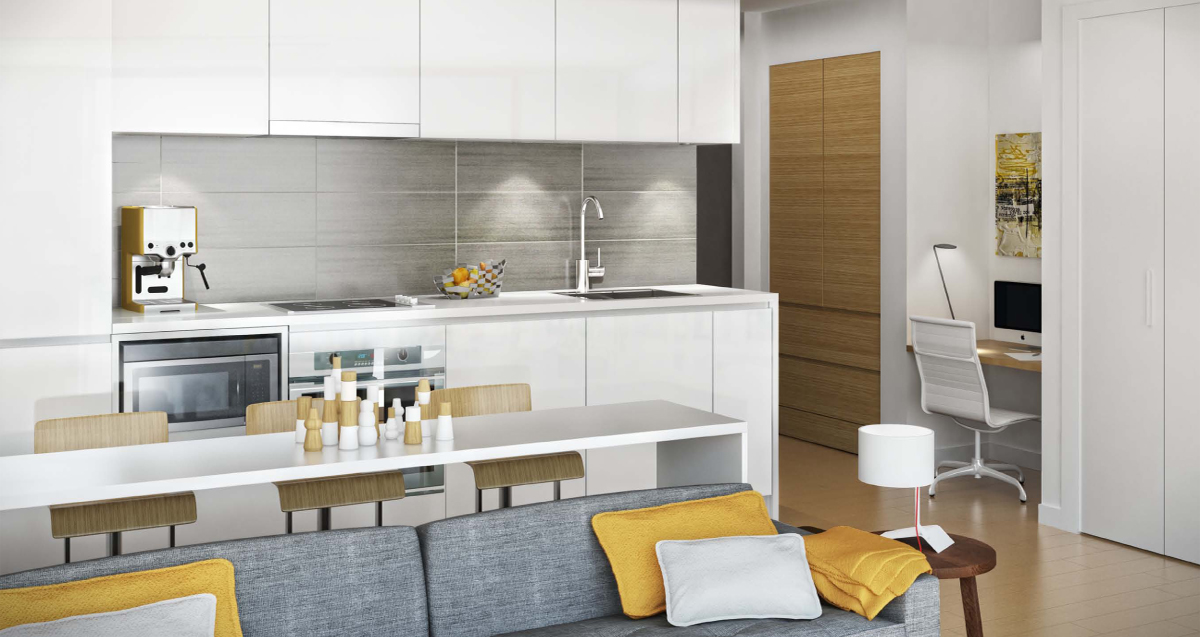 3 Eau Claire Suite Rendering